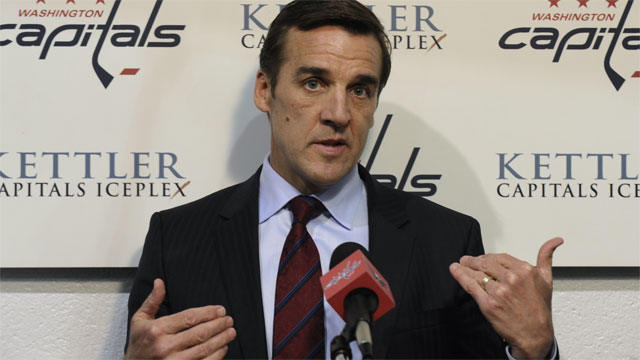 The Man found a way, as he is wont to do. (Sportsnet)
Wednesday afternoon, the Washington Capitals acquired goaltender Jaroslav Halak and a third round pick for Michal Neuvirth and defenseman Rusty Klesla, who had been acquired Tuesday night as part of the Martin Erat trade. As predicted, reaction to the trade was swift and polarized.
Upon the announcement of the move, I must admit I was very skeptical. It certainly appeared on the surface that the Capitals were trying in vain to improve their goaltending this season, which as we know has not been issue despite opinions to the contrary. Upon reflection I actually like this move for several reasons; however, it is not without some caveats.
From a futures and hockey standpoint, this deal makes a lot of sense. It sheds salary, which the Capitals needed to do badly as they were up against the cap in the future as well as this season. Halak is a pending free agent, and comments made by George McPhee afterwards would certainly seem to indicate that this will be Halak's only season (or part thereof) in Washington. The general manager made it clear that the team is willing to commit to Braden Holtby, which I have been calling for throughout the year. Neuvirth's departure, coupled with these comments, clears the way for Washington to make that commitment in terms of playing time in the near future, as Neuvirth's presence was seemingly causing some friction between the goaltenders. If McPhee's comments are to be taken at face value, and Halak will be allowed to walk this summer, than this was a completely necessary move for the future of the team. One of the team's young goalies had to go, and now one has. The only small issue I have is that Neuvrith was not flipped for a more long-term asset, but that may just be wishful thinking on my part. If Halak re-signs, however, then the appeal of this transaction dips heavily.
With that potential cap space (about $17.2 million this summer according to CapGeek), there are some dangers. We all know that the free agent market is chock full of some terrible contracts every year, and it is imperative that the Capitals stay out of these, as they have the last two summers, if the potential of this move is to be fully realized. I'm nervous that the team will pursue guys like Ryan Callahan and Andrew MacDonald, who aren't needed and will get some crazy money this summer. That is another potential pitfall of the move, but it's so hard to predict how the market will shake out four months from now that there's no point in getting caught up in it. It is, however, important to be aware of the possibility.
As for this year? That's up for debate. As I said yesterday, the Capitals did get better when they acquired Dustin Penner and now they do have another good goalie in Halak – and they acquired both of those pieces at virtually no cost. The team is better now than they were on Tuesday morning and were able to cut significant salary, which McPhee deserves credit for. Of course, that's not without the chief footnote that he put them in that situation to begin with – but it is a large net positive. The defense still needs improving, but it is essential to recognize that if the market wasn't there, McPhee was wise to stand pat and not overpay, or pay at all for someone he felt would not have, to use his words, "move the needle."
So, to recap: McPhee handled this deadline very well, just about as well as he could have, with one small exception. Now, he must make good decisions moving forward, especially this summer, to fully maximize the hockey potential of Wednesday's moves.