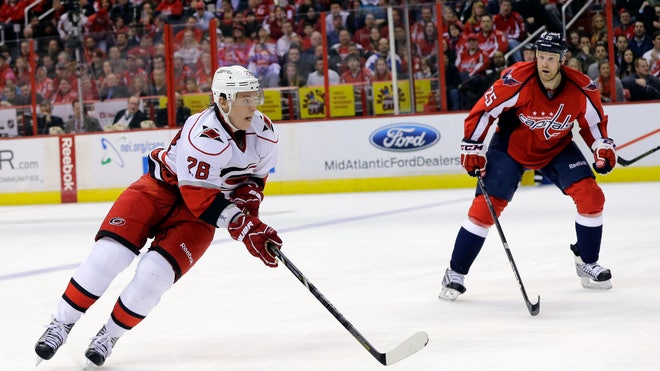 Sasha Kills. (Fox)
The Washington Capitals lost their second consecutive game on Thursday night inside Verizon Center, falling 3-2 to the Carolina Hurricanes in a see-saw contest. Jason Chimera scored first for the home side, before last summer's 5th overall pick, Elias Lindholm, scored his first NHL goal to tie it up. Alex Ovechkin would get his sixth of the season on a crazy bounce shortly thereafter, but Carolina would get two more goals, the equalizer from Alexander Semin and the game winner off the stick of Sabres castoff Nathan Gerbe, to leave the District with two points. With the loss, Adam Oates' men are now 1-3-0 on the year, with their lone win coming in a shootout. That means they are now (technically) dead last in the new Metropolitan Division.
Alex Urbom impressed me in his NHL debut. Washington's newest player, who was claimed off waivers from the New Jersey Devils last week, played most of his even strength with Steve Oleksy and looked strong, confident, and mobile both with and without the puck. If he could develop in to a top-four guy and the organization really has given up on Dmitry Orlov, than perhaps it can phase John Erskine out of top-four ice time for this team as they try and attain some lofty goals. It was obviously just one game, but the young Swede did impress me on Thursday.
Alex Ovechkin has scored in four consecutive games to open a season for the first time in his career. He is some kind of hot right now. How high will he go this season?
Braden Holtby was solid tonight, making some very nice saves, especially late to keep the game close. I find it hard to fault him for any of the three goals he allowed, but I do think it's time to give Michal Neuvirth a chance to start a game. Neuvy was superb in relief of Holtby in Washington's only win this season, and is a very talented player. Maybe Braden just needs a break as he settles in during his first full professional season.
Tom Wilson and Martin Erat both once again saw little ice time compared to what they should, which obviously continues to be a very big problem. As the intrepid @RFCapsMoustache noted in the game, Wilson's role is not likely to change significantly enough for him to get top minutes because Troy Brouwer and Alex Ovechkin both play the right side like Wilson does. He's seeing enforcer type minutes, and if that is the reason he is on the roster, the decision to trade Mathieu Perreault so he could stay goes from bad to much worse. As for Erat, though he saw a season high in terms of ice time, it continues to make no sense why he is playing on the fourth line when Brooks Laich and Marcus Johansson, both of whom he is better than in a scoring wing role, see a lot more time than he does. This is a player who Washington bet a piece of the farm to acquire, and he's not playing. What gives?
Overall, this was not a good loss. The Capitals took two leads against a team that they should be better than on paper, and they lost them both to drop two points at home and get a homestand off to a bad start. The even strength play was better, but a goose-egg on the power play didn't help matters for a team that has, in general, relied on the extra-man attack to generate offense this year. Confusing personnel decisions, some bad luck, and some horrendous defensive play are really sinking Washington right now, and a correction needs to come quickly. Adam Oates has built a reputation early in his NHL coaching career as a tinkerer, and now it's time for him to tinker.
Washington is back on ice for their next game Saturday night, at home against the 4-0 Colorado Avalanche.