Early playoff exits for the Capitals over the past several seasons means they haven't built up the playoff rivalries some other teams have. But just because Dale Hunter was still playing for the Caps the last time they faced the Bruins in the playoffs doesn't mean these two teams don't have a lot of familiarity with each other. Beyond the four regular season games they have played since late January, a couple players and coaches on both sides have faced each other in the playoffs before, and many players and coaches on both sides have played with each other over the years. For instance, Caps head coach Dale Hunter and Bruins head coach Claude Julien were teammates on the Quebec Nordiques from 1984-86.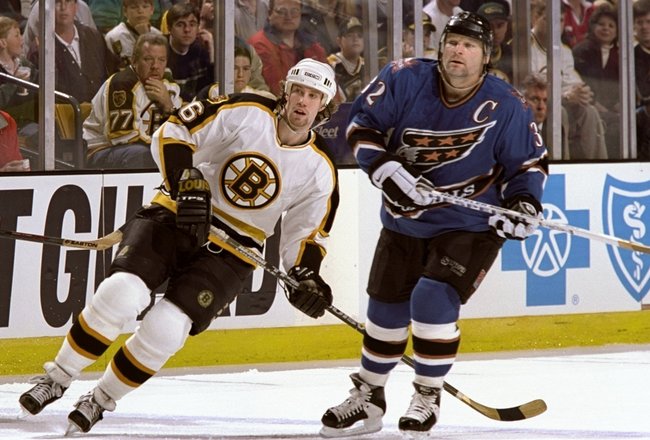 Craig Melvin, Getty Images
For the Bruins, Andrew Ference was playing for the Mario Lemieux-led Pittsburgh Penguins in 2001 when he faced the Capitals in the playoffs. He posted respectable numbers against the Caps, who featured current Capital Jeff Halpern, Caps goalie coach Olaf Kolzig, and current part-time Bruin Trent Whitfield. Benoit Pouliot faced the Caps in 2010 as a member of the Montreal Canadiens.
| Bruins vs. Caps | GP | G | A | PTS |
| --- | --- | --- | --- | --- |
| Andrew Ference | 6 | 1 | 3 | 4 |
| Benoit Pouliot | 7 | 0 | 1 | 1 |
On the other side of the fence, Roman Hamrlik has faced Ference and the Bruins three times in the past four seasons as a member of the Montreal Canadiens, with Halpern and Benoit Pouliot joining Hamrlik in 2011. Ference and Hamrlik were also teammates on the Calgary Flames from 2005-07.
| Caps vs. Bruins | GP | G | A | PTS |
| --- | --- | --- | --- | --- |
| Roman Hamrlik | 18 | 1 | 5 | 6 |
| Jeff Halpern | 4 | 1 | 0 | 1 |
For the history of this playoff rivalry, it is interesting to note both times the Capitals have faced the Bruins they advanced to at least the 3rd round. In 1998, George McPhee's first season, the Capitals took down the Bruins in 6 games as they marched to the Stanley Cup Final. To top it off, the next fall Dale Hunter started a brawl at the Fleet Center which got 12 players ejected. Dale Hunter was also on the Caps when the Bruins swept them in the 1990 Conference Final. Dale Hunter is also still the Capitals all time leader in playoff assists, points, games played, and penalty minutes.
Back to Claude Julien for a moment, he has previously coached two Capitals. He coached Capitals winger Jason Chimera in his first professional coaching job, from 2000-02 with the AHL Hamilton Bulldogs. In 2001-02, current Bruins assistant Geoff Ward joined Julien behind the bench. Julien and Ward also coached defenseman Dennis Wideman in Boston for three seasons, from 2007-10. Wideman was traded to the Bruins at the trade deadline in 2007 and was traded to Florida at the end of 2009-2010.

Wideman and Chara
Looking at Bruins assistant coach Doug Jarvis for a moment, he holds the record for most consecutive games played (964), and he won the Selke Trophy with the Capitals in 1983-84. In fact, during the 1983-84 and 1984-85 seasons, he was a teammate of Capitals assistant coach Dean Evason and Capitals color commentator Craig Laughlin. He was reunited with Evason in Hartford during the 1985-86 season after 2 and a half seasons in DC, and he played there until the end of his career in the 1987-88 season.
Evason and Bruins assistant Doug Houda were teammates in Hartford in 1990-91. Houda was also teammates with his current captain, Zdeno Chara, on the 1997-98 Islanders, and Chara played the next season on the Island with Roman Hamrlik. Houda was later the assistant coach of the 2005-06 Rochester Americans, where he coached current Capital winger Matt Hendricks and current Bruin forwards Gregory Campbell and Daniel Paille. Paille played on the Americans the next season with Dale Hunter's son, Dylan.
Speaking of players with famous fathers, Gregory Campbell has played with a couple current Capitals. Campbell and injured Bruins winger Nathan Horton played for the Florida Panthers together from 2003-10. From 2007-10, they played with current Capitals netminder Tomas Vokoun, and in 09-10 they played with current Bruin Dennis Seidenberg, too. Of course, Wideman and Vokoun spent last season together in Sunrise.

Horton and Campbell look happy
Vokoun's career has crossed paths with a number of current Bruins, including center David Krejci when they represented the Czech Republic in the 2010 Olympics. Vokoun and defenseman Greg Zanon were teammates on the Nashville Predators in 2005-06, and Rich Peverley joined them in 2006-07. Peverley and Zanon were also teammates with Capitals winger Joel Ward on the 2008-09 version of the Predators. Before Zanon made the show, he and Matt Hendricks played on the 03-04 AHL Milwaukee Admirals.
Speaking of Joel Ward, he broke into the NHL with the Minnesota Wild in 2006-07, where he was teammates with Bruin winger Brian Rolston. Joining him on the busrides with the AHL's Houston Aeros that season and the next were Bruins winger Benoit Pouliot and #3 goaltender Anton Khudobin. Speaking of Khudobin, he played in the 2005 World Junior Championship with Alexander Ovechkin.
Mike Knuble may be best remembered by Caps fans for his days in Philadelphia, where he played alongside Dennis Seidenberg in 2005-06, but his stint in Philly was preceded by 5 seasons in Beantown. From the 2000 trade deadline through 2003-04, Knuble was teammates with current Bruin Brian Rolston, and in their last season they played with a baby-faced rookie named Patrice Bergeron. Knuble and Rolston also teamed up in the 2006 Olympics for Team USA, and while Knuble also played a handful of games in Boston with Tim Thomas in 2002-03, he was already familiar with him as a teammate from the IIHF World Championships in 1995 and 1999, and they were joined by Jeff Halpern in 2005. In the same tournament, current Bruin defenseman Mike Mottau played with Knuble and Thomas in 1999 and played with Jeff Halpern in 2000. Halpern and Thomas were teammates for the 2008 World Championship.

Rolston scores on Canada
Speaking of international teammates, Brooks Laich has represented Team Canada a few times. He played with Greg Campbell and Daniel Paille in the 2003 World Junior Championship and with Rich Peverley in the 2010 World Championships. Before his trade to Washington in 2004, Laich started his professional career in the Ottawa Senators organization, where he played with Chris Kelly on the Binghamton Senators and Zdeno Chara on the big club in 2003-04. Kelly, of course, played with Chara and later former Capital Joe Corvo on the Sens, but he also played 3 seasons of junior with John Erskine on the London Knights until he was dealt away for Dennis Wideman.
Corvo played 18 regular season and 7 playoff games for the Caps in 2010, when he played with 13 current Capitals. While Corvo and Keith Aucoin didn't get into any games with each other in 2010, they did play together with Dennis Seidenberg on the 2007-08 Carolina Hurricanes.
Interestingly, Keith Aucoin has played with his share of current Bruins. During his first stint on the AHL's Providence Bruins, Keith Aucoin spent the 2002-03 season with Tim Thomas and the next season on the Cincinnati Mighty Ducks with Mike Mottau. Keith even got his family into the act, as he and his brother Phil played with Patrice Bergeron on the 2004-05 Providence Bruins. Aucoin then spent the next season on the Lowell Lock Monsters and the 2006-07 season on the Albany River Rats with Johnny Boychuk. Boychuk also spent a season and a half with Troy Brouwer on the WHL Moose Jaw Warriors from 2002-04.

How much wood could a Boychuk chuck…
Current Capitals backup goalie Dany Sabourin should be quite familiar with several Bruins, as he spent the 2009-10 season as the goalie for the AHL Providence Bruins. He played on that team with Trent Whitfield, Johnny Boychuk, Brad Marchand, and Adam McQuaid. Just a couple seasons before, Matt Hendricks played on the 07-08 Baby Bs with McQuaid, David Krejci, and Tuukka Rask. Speaking of Krejci, he also played a few games with Caps enforcer Joel Rechlicz in 2005-06 on the QMJHL Gatineau Olympiques.
Marchand is familiar with Caps defenseman Karl Alzner, as they won back-to-back gold medals for Team Canada at the 2007 and 2008 World Junior Championships. Jason Chimera and Andrew Ference also played for Team Canada at the WJC, winning silver in 1999. And while Mike Knuble got a few games in with Bruins goalie coach Bob Essensa back with the 1996 Adirondack Red Wings, Caps goalie coach Olaf Kolzig played in the 2006 Olympics for Team Germany with Dennis Seidenberg.

Alzner's Hat, FTW!