Washington Capitals (29-18-10) at Anaheim Ducks (32-21-4)
Honda Center
Time: 10:00 PM EST, Be sure to record it!
Television: Comcast SportsNet DC (HD) (Game On!)
Radio: XM, 1500AM, 820AM
Familiar Faces of Former Caps:
Head Coach Randy Carlyle (Caps Assistant 2002-04)
Goalie Coach Pete Peeters (Caps Goalie 1985-89)
Equipment Manager Doug "Sluggo" Shearer (Caps Equipment Manager 1981-2007)
The Enemy:
Our Bloguin Partner: On The Duck Pond, Sports Haze, Anaheim Calling
Puck Daddy weighs in on the Caps' Leadership
The Capitals continue their 5-game road trip tonight against the battle-hardened Anaheim Ducks. The Ducks are returning from a 4-game, 4-win road trip and will try to leapfrog their way into first place in the star-studded Pacific Division on their own pond. Four points is all that separates 1st place Phoenix from 5th place Los Angeles in the dogfight for king of the hill. There's no rest for the weary after tonight, as the Ducks play two more road games to finish the week and the Sharks are circling in anticipation of facing the Caps tomorrow night in San Jose.
The Caps can ill afford to look ahead to a rematch with the Sharks, as the Ducks are 14-4 in their last dozen and a half games. They are especially good against Eastern Conference foes this season (10-5-1, 3-1-1 vs. the Southeast). With strong goaltending, solid defense, and a balanced attack, the Ducks are legitimate contenders.
Injury Report: Capitals D Tom Poti (groin) did not make the trip. RW Eric Fehr (shoulder) and D Mike Green (inner ear) are out. (CI)
Update: Ducks #1 G Jonas Hiller has been placed on injured reserve with a fatigue issue. Ducks backup goalie Curtis McElhinney (6-5-1) will likely face Semyon Varlamov (9-8-4) in goal tonight. Defenseman Patrick McNeill was recalled from Hershey but is not expected to play. Check out our excellent roster page for more information on #46.
What to watch for:
Fowl Additions: In addition to activating #1 C Ryan Getzlaf from injured reserve, the Anaheim Ducks have made several personnel moves in the past week. They gave up Cap Killer RW Joffrey Lupul, D Jake Gardiner, and a pick to re-acquire veteran D Francois Beauchemin from Toronto. Beauchemin played 234 regular season and 55 playoff games for the Ducks between 2005 and 2009 and won the 2007 Stanley Cup. The Ducks also signed inconsistent G Ray Emery to a 2-way deal to see if he could be their backup in the playoffs; he is currently playing in the AHL. For good measure, the Ducks shipped W Aaron Voros to Toronto in exchange for a conditional draft pick pick.
Emery is known for more than just goaltending
Power Vacuum: Perhaps the Caps should read John Davidson's Hockey for Dummies article on the powerplay. It very clearly and concisely explains what to do on a powerplay, exactly the things the Caps aren't doing. The Capitals agonizingly inefficient powerplay has cost them numerous wins this season. On Monday, the Capitals fired 14 powerplay shots on goal against the Coyotes and had some good chances, mostly due to having traffic in front of the goalie. The Montreal Canadiens wrote the book on how to shut down the Caps umbrella powerplay scheme in last year's playoffs by blocking point shots and making it difficult for the Caps to get to the front of the goal. The umbrella scheme is dependent on having traffic in front of the goalie to work, which means the Captials need to have players in front of the goal. Plural. If they can't get traffic, the Capitals have two options to fix the powerplay: one is to change personnel, pick players who go to the net, and the second is to change the scheme. For instance, setting up behind the goal or low on the half-wall forces teams to look away from the point and allows point-shots and backdoor chances to get through more easily. Something's gotta give before it's too late.
Figure 1: The umbrella in action.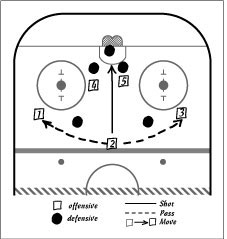 (Courtesy of Wiley Publishing)
Must-see Mustache: Anaheim RW George Parros is famous for his mustache, and while Caps fans could expect to see the 6'5, 225-pound enforcer drop the gloves tonight, there's much more to him than meets the eye. Named The Sporting News' 4th smartest athlete in September, Parros graduated Princeton University in 2003 with a degree in Economics (3.18 GPA) and worked for the Chicago Board of Trade. His playing career includes captaining the Princeton Tigers as a senior, playing 3 seasons for Coach Bruce Boudreau with the AHL Manchester Monarchs, and drinking moonshine out of the Stanley Cup in 2007. Parros added philanthrophy to his résumé when he shaved off his mustache in November so he could re-grow if for charity. Tonight's game marks a rare chance to see one of hockey's true characters.