A few years ago, Hershey was graced with the arrival of a 19 year old defensive stud at the end of the season. Fresh off his Junior campaign, John Carlson stepped immediately into a key role and announced to the world that he was ready for a bigger stage. Granted, the expectations were high, and while he made a few mistakes, he still impressed. Unlike most young defensemen, we didn't get to see JC sport the #4 in Hershey for even a full year before he headed south to don a red jersey with a 7 perfectly stitched before the 4 he wore in Chocolatetown. Now, it's not uncommon to see Carlson's #74 Capitals jerseys scattered throughout crowds in Washington, DC; Hershey, PA; and even Newark, NJ. It didn't take long for fans to join his camp… and I believe we're witnessing a similar story unfold again, this time with a young Russian defenseman.
Dmitry Orlov first donned his #27 Bears jersey in late February.  After his KHL team, Metallurg Novokuznetsk, failed to make the playoffs, he opted to head for North American and join the Bears to come one step closer to playing in the NHL. There was buzz surrounding the arrival of the 6 foot, 200-lb Russian defenseman, and rightly so.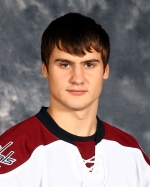 Read On!
His KHL stats were appealing – 2 goals and 10 assists in 45 games. His WJC performance, even more so – 1 goal and 8 assists in 9 games. To give you a bit of a measuring stick, John Carlson scored 4 goals and chipped in 3 assists in 7 games (so both averaged a point per game in junior international play). Both players took gold medals home.
Orlov has now played 13 games for the Bears. In those 13 games, he's scored 1 goal, added 4 assists, and has 15 shots on goal. He's currently in the minus column with a -4 rating, and I believe that has more to do with how the Bears have been playing recently than a reflection of Orlov's defensive ability. The things he does right are often the things that don't end up on the stat sheet at the conclusion of the game. His poise is unbelievable. His stick-handling skills are phenomenal. His passes are crisp. Communication on the ice was a big question mark when he first arrived, but despite not speaking the same language as his teammates (with the exception of Dmitri Kugryshev), he seems to get along just fine.
The biggest impression he's made on me to this point is his sense of what's going on around him. In the Bears' loss to Syracuse on Sunday evening, Orlov was highlighted on the Jumbotron with the "Save of the Game." After he made an ill fated outlet pass that led to a turnover and a shot was fired in on Braden Holtby, Orlov raced to the net. Just as the puck squeezed by Holtby and seemed ready to cross the goal line, Orlov dove at the line, knocking the puck out of the crease. Whether he dove with the attempt to clear and not cover the puck, we'll probably never know; but that was the outcome. That sealed the deal for me. I'm now a proud member of the Orlov camp.
John Walton and Tim Leone have made some interesting observations on the young Russian over the past few weeks. While I didn't disagree with them, I wanted to give Orlov more time before I pledged my full-fandom. Walton and Leone have both mentioned that if you look at where John Carlson was in his first few games in a Bears uniform and where Dmitry Orlov is in his first few games as a Bear, the edge goes to Dmitry Orlov. After spending a full 2 game home-stand focusing only on him when he was the ice, I'd have to say that I agree. He's getting a lot of minutes on the Power Play and Penalty Kill. He's been paired with different defensemen off and on. He seems to have an awareness that is already good and only improves with every shift.
And so, as we've been saying for years now, the future on the Capitals' blue line is very bright indeed.  This only begs the question of what number Orlov will wear in red.