Bruce Boudreau, the most successful regular season coach in Washington Capitals history, has been fired. Dale Hunter is the much anticipated new head coach of the Caps. He comes in with the resume of a champion, ready to win, and he is the right man for this team, not least because he used to play here and has already coached three of the team's players. Dale Hunter knows how to develop players, he knows how to get teams of stars to work together, and he has the hunger for the one thing that has eluded him in his illustrious career, the Stanley Cup.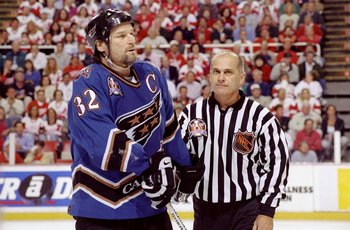 Hunter is the right man for this job for many reasons. In looking at his coaching resume, Hunter has already spent ten years behind the bench of the Ontario Hockey League's London Knights, the team he co-owns with his brother, Mark. Hunter took over the team midway through the 2001-02 season, he won the 2003-04 CHL coach of the year award, and became the fastest coach in OHL history to 300 wins and 400 wins. In 688 games behind the bench, Hunter's record is 451-189-17-31, and he has the best winning percentage in league history. Hunter's teams have made the playoffs every season, and they win, too. Under Hunter, the Knights have won 17 of 26 playoff series and the 2005 Memorial Cup. Now that his two sons have graduated from the Knights system and with nothing left to accomplish in the OHL, Hunter is ready for a new challenge.
Coach Hunter also has his share of suspensions on his ledger, both for abuse of officials and on-ice altercations. Whatever one says about discipline, Hunter's teams always have a high battle quotient. That's something that has carried over to the players he has developed in his system, which have included two Rocket Richard winners (Rick Nash and Corey Perry) and two Caps defenders, John Carlson and Dennis Wideman. Hunter will have instant rapport with two players on the team, and he'll have the respect and attention of the locker room. He is well-known for his ability to develop players and for his ability to bring teams of star players together to play as one. His on-ice and off-ice demeanor are exactly what this team needs.
Dale Hunter won't have any problems commanding the respect of even the most veteran of the Caps players. When Hunter retired from his NHL career, he was and remains the only player in league history with over 1,000 points and 3,000 penalty minutes. His career totals of 1,407 games played, 323 goals, 697 assists and one All-Star Game appearance over 19 NHL seasons means he's got the resume and experience with the league to know how things work. As impressive as the stats are, it was his ability to maximize his talent and be the consummate team player and linemate that set him apart. Nicknamed "the Nuisance" during his first few seasons in Quebec, he was the playmaker behind perennial 50-goal scorer Michel Goulet's success, both with his passing skills and physical play to make space for him. His trade to the Washington Capitals was fortuitous for both franchises, as the Capitals got a veteran leader and the Nordiques got the draft pick the used on Joe Sakic.
Dale Hunter's time in DC was very eventful. From scoring the overtime Game 7 winning goal over the Flyers in his first Caps season in 1988 to his 21-game suspension for cheap-shotting Pierre Turgeon in Game 7 in 1993, Hunter always wore his heart on his sleeve. He also wore the "C" on his chest from 1994-95 through 1998-99, when he was traded back to the Colorado Avalanche for one last shot at the Stanley Cup. "Huntsy" is still in the top-10 in several major statistical categories, including goals, assists, points, games played, and he's the all-time franchise leader in penalty minutes (2,003 of his NHL 2nd-best 3,565).
But Hunter wasn't hired with the regular season in mind. It should come as no surprise then that even without the Stanley Cup on his resume, his playoff resume is impressive. With 42 goals and 118 points in 186 games overall, Hunter has played more playoff games anyone who has never won the Stanley Cup. He also holds the franchise records for playoff assists, points, and games played, plus the league record for most penalty minutes (729). He'll never tell you that, though, he's too humble a man to do that. He'll never have to point to his retired number hanging in the rafters to gain the respect of his team, his bearing and demeanor already demand it.
Hunter is already trusted by team's management, which should make his transition even smoother. After captaining the most successful team in franchise history to the Stanley Cup Final in George McPhee's first season as General Manager, Hunter came back after he finally hung his skates up in the late Spring of 1999. While Hunter was looking for his next career move, McPhee quickly scooped him back up to be the Capitals' player development coach for the 1999-2000 season. Even though it was only one season, he left an impression on everyone he worked with. Just one example was his work with then-rookie center Jeff Halpern, teaching what it meant to be a winner in the NHL, working with him on faceoffs and other on-ice tactics for success. It set the stage for the moment tonight, when he stands behind the bench for his first NHL game as a head coach.
To be sure, I am a Dale Hunter fan, so I might be a little biased in thinking he's the right man for the job. One of my favorite hockey memories is from the 1998 Stanley Cup Final. Dale Hunter had gotten into a fracas with several Red Wings and ended up sitting on top of a prone Steve Yzerman with a "who, me?" look for the referees. It exemplified the mantra for a player that should have been too small to play in the NHL, "if you ain't cheating, you ain't trying." Hunter had to truly give 110% to get the most out of his game, he had to play bigger than his 5'9. 180-lb frame and sometimes outside the league rules, and it kept him in the NHL for 19 years. He's the right person to squeeze every last ounce of talent and effort from a team that everyone expects to contend for a championship, and his (sometimes) quiet passion will seep through the entire organization. He'll never quit until he's holding the one thing that has eluded him in his career, the Stanley Cup.