@CAPSLuv, Nicklas Backstrom, and one of our shirts!
As one of our writers was working re-con on our Southeast Division foes, I had the opportunity to attend the Caps' fan festival at its new local, the Walter E Washington Convention Center. The convention was a huge success, and everyone I spoke with overflowed with excitement about the team, the panels and exhibits, and the pending 2010-11 season. A few highlights:
The picture above. Seriously. She wins the internet.
Speaking with Eric Fehr, post autograph signing. Even after speaking on panels and signing countless autographs, he still took time to speak with us and was nothing but cordial the entire time.
The Winter Classic sweater unveiling. While some aren't fond of them, I dug the look (especially Rod Langway's shoeless catwalk) and can't wait to see them in action on New Years Day.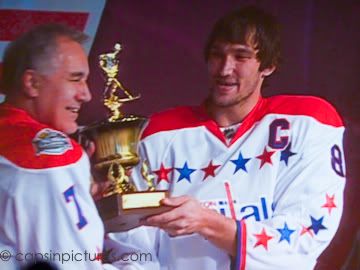 [courtesy of CapsinPictures.com]
Hearing Marcus Johansson speak on rookie hazing: "I have to pick up the pucks everyday."
Bruce Boudreau's assessment of Matt Bradley: "He's going for a record 11 goals this season."
Watching Alex Semin get stopped repeatedly by a kid who couldn't see over his pads. How'd he respond? By wristing the puck top shelf over the elementary schooler, naturally.
More on the Capitals playing with the kids: Brooks Laich brought the same energy and excitement to the floor hockey rink as he does to the ice. Just when you thought Mr. AAA couldn't get much better, he keeps the surprises coming.
Olie Kolzig stealing the show during his and Peter Bondra's panel on the teams' run to the Stanley Cup Final. I'd love to transcribe the panel, but I was too busy giddy with the excitement of revisiting a time that helped spawn my fascination with the team.
Kid's panel did not fail to impress once again. More on this here.
Listening to Mathieu Perreault's account of the 2006 NHL Entry Draft, when his height and weight was relayed to the Caps in err. Apparently his agent brought him to the team to prove he was taller than he was listed, and was subsequently drafted the next round.
Ladies, if you're wondering on asking John Carlson to Homecoming, please make sure he's not in Calgary wrapping up a three-game road trip.
Speaking of the Real American Hero, he will sign your shirt if you ask him when he's walking with his Mom.
Although somewhat biased, the Bloggers' Panel with writers from Japers' Rink, Off Wing Opinion and On Frozen Blog was a great time. Very informative, and welcoming to see/hear the Capitals' continued support.
Last, but far from least, meeting many of our readers! Thank you for saying hi, and for your continued support.
So, we have to know – what was your favorite part of the Convention? What could you do without? What would you recommend as a "must see" for anyone attending next year? Tell us in our comments section!
UPDATE:
We must have still be high from the flashing lights and fog machines, the repeated Guns N' Roses soundtrack, and all that new sweater smell – 'cause we seriously botched giving proper credit to the young lady above. See, it turns out there are TWO people awesome enough to have their picture taken with Nicky B while donning a "Frontstrom" shirt. Check out
@ikeastan
below, and her
pictures from the Convention on flickr
! Both will be making their way to
our Extras section
, so be sure to head over there as well.