For Washington Capitals players, the public relations machine is always churning. With trips to local schools, hospitals, ice rinks, and malls, there always seems to be something to eat up the time between practices and games. But for one night a year, the players get to have some serious fun at one event in particular; it's obvious from the looks on their faces. That event is the annual Season Ticket Holder Party, the 2010 version of which was held last night at Six Flags America in Bowie, MD. And it was cool.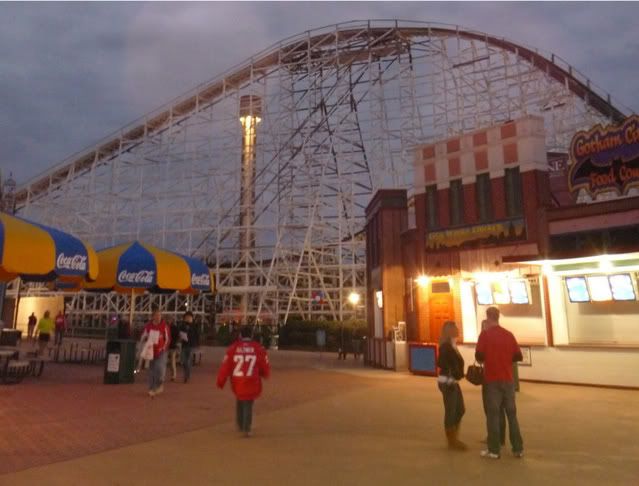 These STH Parties are definitely not for those fearful of queues or faint of heart. The lines form early for player autographs and depending on resemblance to Brooks Laich or Mike Green player popularity, can get quite long. With the biggest draw, Alex Ovechkin, and his fellow Russian Semyon Varlamov off at ESPN Headquarters filming a commercial, the player-to-fan ratio was decreased. But it also created an interesting question: other than Ovie, who is the biggest draw? More on that later.
For those who openly questioned what Alex Semin would do without his fellow Russian teammates, the answer was simple: he'd just hang with the Swedes. Semin (the only player to not wear his Caps jersey…?), Nicklas Backstrom and Marcus Johansson wandered the park in search of extreme rides and eventually hopped onto the Skycoaster, a ride that resembles a very large swing. After a brief game of rock-paper-scissors to determine who passes Ovie the puck next game gets to go first, they were off!
There is nothing more exhilarating that watching $13.6 million in salary cap room being dropped from 10 stories up after a safety lesson taught by high school kids. I'm sure having a swing-side seat was the only thrill ride George McPhee needed on the night.
Semin, Backstrom and Johansson playing Rock-Paper-Scissors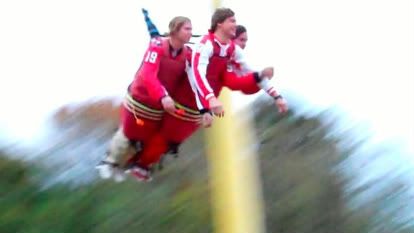 No word why Semin called dibs on the middle.
As for the popularity contest portion of the evening, it was clear who the fan-favorites were. Outside of the obvious (Backstrom, Semin, Green, Laich), it seemed like the longest lines were for the kids. Not surprisingly, the line for John Carlson/DJ King looked longer than even the nearby Backstrom line and, playing off their early season success, the Karl Alzner/Michal Neuvirth line also wrapped far around the corner. Ditto for the line for Jeff Schultz and Jason Chimera. (Side note: Karl Alzner is the nicest professional hockey player I have ever met. He even talked to my 9 month old. And he takes his time signing, so it actually looks good.)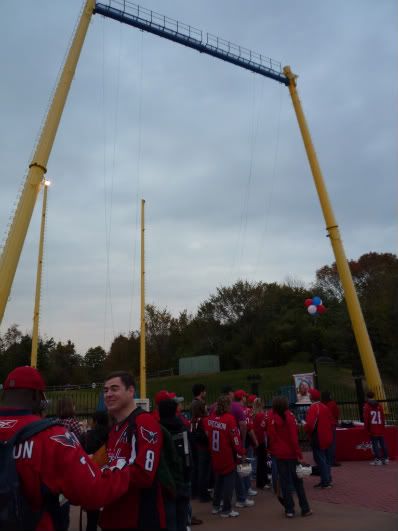 With the players so spread out in the park, families divided to cover the most ground. Autograph hounds lugged around duffel bags full of memorabilia. Kids ran after hockey players like they were red-clad Pied Pipers. It was a great evening to be a Caps fan.
Once all the players headed for home, the rides remained open for the fans to enjoy, without the long lines usually associated with amusement parks in the summer. And for some reason, no one seemed to notice it wasn't 90 degrees out.